ABLE PEST CONTROL
Incorporating
GLOUCESTERSHIRE WASP & HORNET CONTROL

DON'T GET STUNG
Based near Cirencester
We are cheaper than the major national companies,
A similar price to Local Councils but can respond quicker and
outside of normal business hours.
We are more trustworthy than the Call Center Jack Of All Trades
who take your money and then try and farm the job out.
We Offer
Same Day Service Anywhere In The Cotswolds
All Treatments Guaranteed No Extra Costs No Vat
WHAT WE QUOTE IS WHAT YOU PAY
No hidden extras
A Truly Local Family Business Call Dennis 01285 720651
REGISTERED WITH WASP NEST REMOVALS UK
Welcome to Able Pest Control Please be aware we have no connections whatsoever with Able Group, a Jack of all Trades call centre based in Essex
SEASONAL PESTS
BEES
In May we get lots of calls for Wasps and Bees. Any wasps that are seen at this time of year are usually the queens coming out of hibernation. there is not a lot that can be done to prevent this until you actually get an active nest around about June time.
We get lots of calls at this time of year for Bees. Normally these turn out to be Masonry Bees. These bees are completely harmless, they do not sting or bite and they are not going to make your house fall down.
Bumble Bees are one of the first bees to emerge, These bees are not normally aggressive and we do not treat them. In some circumstances if the nest is accessible we can relocate.
Honey Bees will start swarming around the middle of May. Legislation has changed in recent years and it is now difficult to treat Honey bees without having some structural work done to prevent harm to foraging domestic bees. We will not normally treat Honey bees now however if you have a swarm that is accessible we may be able to relocate them.
Please refer to our Bee page in the Pest section of our site for more detailed
information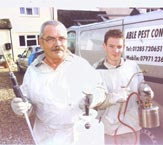 Welcome to Able Pest Control
For the treatment of all pests including Rats, Mice, Moles, Rabbits, Pigeons Wasps and Insects
Proprietor Dennis Eastwood
After over 30 years trading as Able Pest Control, I have now semi retired and my two sons have taken over the business trading as Eastwood Pest Control. However I am still doing the occasional domestic job just to keep my hand in, especially Wasps and Moles. The benefit to my customers now apart from my wealth of experience is I do not need to charge Vat. Nor do I have the overheads of a larger company so my prices are usually cheaper. I still pride myself on providing a service you would not hesitate to recommend to your friends. I also provide free advice and free no obligation surveys and quotes.
Able Pest Control allways offered Traditional Non Toxic Control Methods for some pests such as Moles, ( With over 400 traps in the bag no job is too large or small, from a single mole in a garden to one hundred plus on a farm. ) Squirrels, Rabbits Pigeons and even Rats and Mice can be controlled without the use of chemicals if necessary. The bigger jobs are passed on to Eastwood Pest Control
Based in the Heart of the Cotswolds we are ideally situated for a rapid response to all areas of Gloucestershire and neighboring county's especially Cirencester, Tetbury, Stroud, Stow On The Wold, Winchcombe, Swindon, Cheltenham, and all villages in between. We strive to attend to all calls within 24 hours if not the same day. We also operate an out of hours service for emergency calls to our contract customers at no extra cost.
We are a small company and do not have the overheads that some of our larger competitors have. These savings can be passed onto our customers. You are also guaranteed the friendly personal service you would expect from a local company. When you ring
Able Pest Control
you get the boss every time.
To book an appointment, organize your free survey or just chat about anything pest related please call Dennis on 07971236281, or Office 01285 720651, or Email dennis@ablepest.co.uk
We cover Andoversford, Ampney Crucis, Bibury, Blockley, Bourton On The Water, Cirencester, Gloucester, Cheltenham, Kemble, Mickleton, Stow On The Wold, Moreton In The Marsh, Chipping Campden, Burford, Lechlade, Fairford, Northleach, North Cerney, South Cerney, Swindon, Malmesbury, Tetbury, Stroud, Avening, Stonehouse, Painswick and every village in between
Tel 01285720651 Mobile 07971236281

e mail dennis@ablepest.co.uk